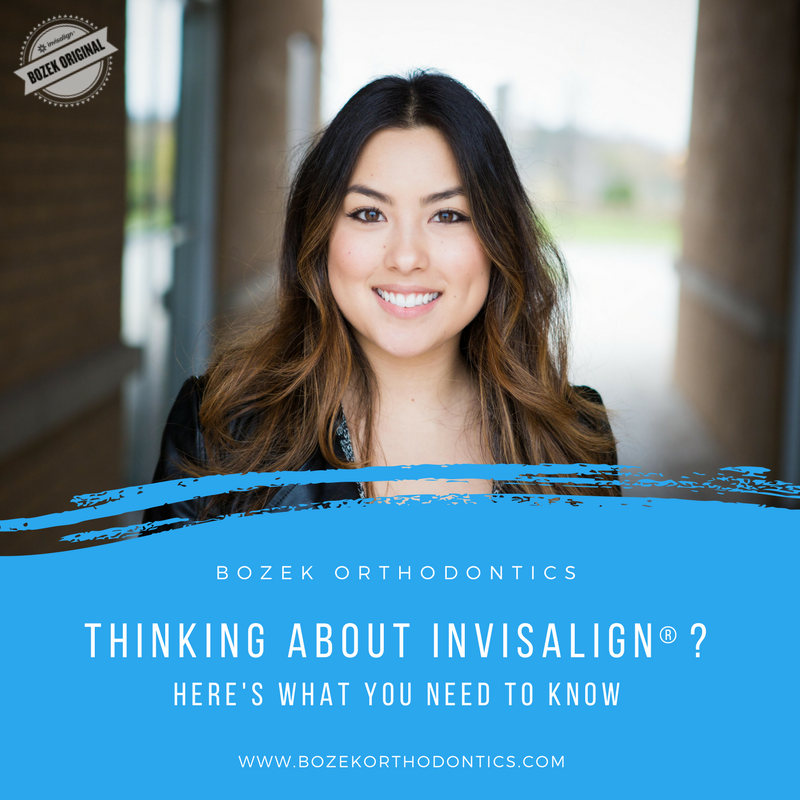 The Top 5 Reasons Bozek Orthodontic Patients Choose Invisalign®!
If you've got questions about Invisalign®, we have the answers. More and more Bozek patients are choosing Invisalign® to correct their teeth for a beautiful smile.
What is Invisalign®?
It is a way to straighten your teeth without using wires. Custom molded clear plastic aligners or trays, fit over your teeth.  The aligners shift your teeth, gradually moving them into place.
The Top 5 Reasons Bozek patients choose Invisalign®:
1. Invisalign® is Invisible!
REALLY!  The clear, removable trays live up to their name and are very discreet. No one needs to know that you are straightening your teeth. Teens and adults love the look!
2. Cleaning your teeth with Invisalign® is easy
Simply remove your trays to brush and floss your teeth as you normally would. Invisalign® makes dental cleanings easier too – no metal brackets or wires to clean around.
3. It doesn't cost more
Typically, Invisalign® costs the same as traditional braces.
4. No dietary changes
Removing your trays to eat means the sky's the limit when it comes to food. No need to avoid the sticky, crunchy stuff (yum!).
5. Save time with fewer appointments and fewer emergencies
Choosing Invisalign® means you only visit Bozek Orthodontics once every six to ten weeks for a check up and new trays. AND, no need to worry about broken brackets or wires.
Dr. John Bozek has treated hundreds of patients with Invisalign® over the last 10 years.  To find out if Invisalign® is the right solution for you, contact us today to set up your complimentary consultation.