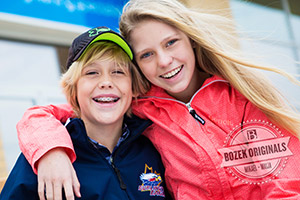 Clear Braces
Imagine, no more hiding behind closed-lip smiles. Clarity™ ADVANCED Ceramic Braces give you the confidence you need to flash an amazing smile, both during treatment and after. The clear ceramic material blends with your teeth and resists staining and discoloration throughout your treatment. And with its small, low-profile design, Clarity ADVANCED Ceramic Braces are virtually unnoticeable, making them perfect for patients of any age.
The smooth, molded brackets reduce discomfort and irritation caused by traditional braces. Bozek Orthodontics uses the most advanced technology available for ceramic bracket braces. This technology allows our patients to feel more confident about their smile throughout the treatment process. During your initial consultation we can discuss your options for Clarity™ braces and whether or not you are a good candidate.
Invisalign®
The Invisalign® System is a series of clear aligners that have been custom-generated by Dr. Bozek and then transmitted into a computer simulation to gradually move the teeth. We personally treatment plan your trays from beginning to end at Bozek Orthodontics. We do not allow the computer to generate an auto-pilot version for you. This is one of the many reasons we are the teeth-straightening specialists, we use our expertise and skill to give you the smile you want. This is a very popular way of achieving a beautiful smile with minimal visits to the office. It is common to come in every 8-10 weeks for delivery and evaluation of progress.
This system is available to all patients, children, teens and adults with certain orthodontic bite problems. We are happy to let you know if you are a candidate for the Invisalign® System at your  complimentary consultation appointment.
SPEED System
The SPEED System is a self-ligating device made from nickel titanium, making it easier to operate the opening and closing apertures, while offering you strong, reliable materials to make your treatment progress with efficiency and speed. Since this system uses no ties, patients have found it easier to keep clean, resulting in better overall hygiene while in treatment. The self-ligation system also cuts down on patient discomfort and gets rid of the friction caused by other appliances. It is small and less noticeable, giving way to better aesthetics for our patients.