After the initial examination, we will get more information on your facial features, the size of your jaws and the position of your teeth, so we can plan your orthodontic treatment. We do this by taking diagnostic records, which consist of digital photographs, X-rays and impressions of your teeth. We have the iTero digital scanner to provide you with the latest in technology and avoid goopy impressions.
The results from your diagnostic records will be presented to you at a consultation appointment. Using your diagnostic records we will finalize a treatment plan. Depending on the complexity of your orthodontic treatment, this consultation can take place in the office or over the phone.
The First Day in Braces
When we place your braces, there will be no discomfort. We don't use needles or drills; we simply glue the braces to your teeth.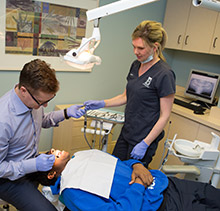 We take the time to demonstrate your personal oral health routine and walk you through our patient care package so that when you leave you feel confident taking care of your new smile and have an excellent resource guide when questions arise.
At first your braces will feel like they "stick out." This is normal. You may find it helpful to apply a small piece of wax on any areas of irritation.
You will probably notice some minor discomfort a few hours after the braces have been placed, as the teeth begin to move. Some teeth may be tender and sensitive to pressure. This discomfort usually lasts only a couple of days. You may take non-prescription pain remedies that you would normally take for a headache to relieve the pain. A softer diet is recommended for the first few days until you get used to your braces.
Adjustments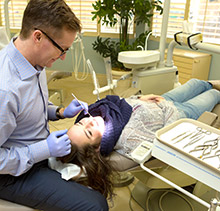 Once the braces are on, we will see you regularly for orthodontic adjustments. These appointments are usually at intervals of 6-10 weeks at the beginning of treatment and closer together towards the end.
The Big Day!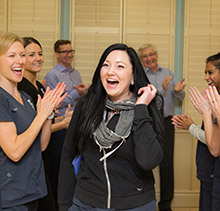 When your braces are removed, we will place retainers to help hold your teeth in their new position. Retainers are small wires attached to the inside of your top and bottom front teeth. Congratulations on a job well done! However, you're not finished yet. We will continue to monitor you for an additional 2 years to ensure your great new smile is stable.